Best of the Best!

The Best Albums from the Greatest Artists in Jazz!
Copyright © 1996, 2000 by David Reitzes
G-H
Looking for advice on the best albums from the greatest artists in jazz, artists like Erroll Garner, Stan Getz, Vince Guaraldi, Dexter Gordon, Benny Goodman, Stephane Grappelli, Herbie Hancock, Johnny Hartman, Dizzy Gillespie, Coleman Hawkins, Joe Henderson, Billie Holiday, Earl Hines, Shirley Horn, Al Hibbler and more? You came to the right place.
What follows are my picks for the very Best of the Best. As of this writing, every CD listed is available for sale at Amazon.com, and clicking on an image will take you directly to the appropriate Amazon.com page, where you can listen to free audio samples with RealPlayer.
Erroll Garner
Concert by the Sea
(Sony/Columbia)
Garner is remembered by jazz and pop music lovers alike for both his lyricism and his brilliant improvisation. Some fans, like Steve Allen, even consider him the greatest jazz pianist of all. They may have a point: Concert by the Sea is definitely one of the all-time great jazz piano albums.
Stan Getz (Bossa Nova)

Getz/Gilberto
(Uni/Verve)
Featuring guest star Antonio Carlos Jobim, and Astrud Gilberto's vocals on the original version of "The Girl from Ipanema." A jazz landmark.
Stan Getz (Jazz)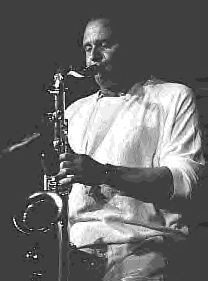 Anniversary
(Uni/Verve)
This superb live set (with Kenny Barron on piano) was one of the last recordings Getz ever made. Includes "Stella by Starlight."
Dizzy Gillespie
Verve Jazz Masters
(Uni/Verve)
One of the greatest trumpeters in jazz, Diz was also a fine composer and bandleader, and a pioneer of Afro-Cuban jazz. Many of his best-known classics are presented here in red hot, all-star settings.
Benny Goodman
The Carnegie Hall Concert
(Sony/Columbia)
They called Goodman the King of Swing. This recording captures what John Swenson called "possibly the most famous live show in jazz history, the triumphant 1938 performance that caught Goodman at the height of his popularity."
Dexter Gordon
Our Man in Paris
(EMD/Blue Note)
He may be better known for his role in the film 'Round Midnight, but Dexter was the premier saxophonist of the bebop movement, and an important influence on such giants as John Coltrane. This is a crackling live set from the prime of his career.
Dexter Gordon
Ballads
(EMD/Blue Note)
Another classic from Gordon. This time the mood is set for romance. Includes "I'm a Fool to Want You" and "Body and Soul."
Stephane Grappelli
Verve Jazz Masters
(Uni/Verve)
The violin is notoriously tough to swing, yet Grappelli never breaks a sweat. This CD is an ideal introduction to a jazz legend.
Vince Guaraldi
A Boy Named Charlie Brown
(Fantasy/OJC)
Good grief! Guardaldi was a fine pianist, bluesy and elegant. This soundtrack recording is widely considered his best album.
Herbie Hancock
Cantaloupe Island
(EMD/Blue Note)
You've heard these cuts sampled in recent years -- remember "Cantaloop"? -- now check out the originals. Funky and swinging, with the sparkling improvisation and sizzling group dynamics that lie at the heart of jazz.
Johnny Hartman
John Coltrane and Johnny Hartman
(Uni/Impulse!)
Critics and fans agree -- this is the very best album from one of the richest, most romantic voices in all of jazz, or any kind of music, for that matter. And Coltrane never played more lyrically than on this date. Outstanding.
Coleman Hawkins
The Hawk Flies High
(Fantasy/OJC)
Hawkins's hardy tenor sound and improvisational brilliance made him the jazz world's first saxophone star, and his inspiration and skill never waned. This album is a sublime set of haunting ballads and soulful swingers with a righteous all-star band.
Joe Henderson
Lush Life: The Music of Billy Strayhorn
(Uni/Verve)
The Grammy-winning CD that propelled tenor saxophonist Henderson to stardom after decades as one of jazz's best-kept secrets.
Al Hibbler
The Best of Al Hibbler
(Uni/Varese Sarabande)
Hibbler's rich baritone comes right out of the Billy Eckstine tradition, but that's where the resemblance ends. Hib's incorrigible sense of humor stamps his music with a raucous edge that led longtime employer Duke Ellington to characterize his style as "tonal pantomime." Critic Will Friedwald calls Hibbler "more than just the Boris Karloff of the blues or the Jekyll and Hyde of jive," but "jazz-pop singing's equivalent to Salvador Dali, Luis Bunel and Krazy Kat; in other words, our greatest surrealist." Here are the very best cuts from this underrated artist.
Earl Hines
Piano Man!
(ASV/Living Era)
Pianist Earl "Fatha" Hines was Louis Armstrong's right-hand man in the days when they were inventing jazz with every tune they played. Here are some of his most memorable recordings.
Billie Holiday
Greatest Hits
(Uni/GRP)
If you don't know Billie, here's a good place to start. Meanwhile, aficionados will be glad to have all of her signature songs from the prime of her career at the Decca label, together on one CD for the first time. Includes "Don't Explain," "God Bless the Child," "Lover Man," and "Good Morning Heartache."
Billie Holiday (Her Overlooked Masterpiece)
Lady in Satin
(Sony/Columbia)
For this album Billie insisted on recording with an orchestra of strings, for which she was quickly labeled a sell-out by the jazz community. In addition, her voice was hanging by a thread, her years of self-abuse having taken a heavy toll. The result? Ray Ellis' arrangements are lush but beautiful, and Billie delivers the most intensely moving performance of her career.
Shirley Horn
You Won't Forget Me
(Uni/Verve)
Possessing a singularly quiet intensity, singer-pianist Horn mesemerizes audiences with her whisper-soft brand of soul. Here she enlists support from such fans as Miles Davis (one of his last recordings) and Wynton Marsalis.
Shirley Horn with Strings
Here's to Life
(Uni/Verve)
This Grammy-winning 1992 album remains Horn's most popular to date. Features the title song and "Wild Is the Wind."