Best of the Best!

The Best Albums from the Greatest Artists in Jazz!
Copyright © 1996, 2000 by David Reitzes
E-F
Looking for advice on the best albums from the greatest artists in jazz, artists like Louis Armstrong, Chet Baker, Count Basie, Tony Bennett, Billy Eckstine, Duke Ellington, Roy Eldridge, Bill Evans, Ella Fitzgerald, John Coltrane, Miles Davis, Frank Sinatra and more? You came to the right place.
What follows are my picks for the very Best of the Best. As of this writing, every CD listed is available for sale at Amazon.com, and clicking on an image will take you directly to the appropriate Amazon.com page, where you can listen to free audio samples with RealPlayer.
Billy Eckstine
Billy's Best
(Uni/Verve)
Said Eckstine, "They weren't ready for black singers singing love songs. We were supposed to sing about work or blues or some dumb s*@#." Well, he put an end to that, and as writer Will Friedwald has noted, "perfected the richest, ripest, and perhaps most beautiful voice of any male singer." Here are all the best cuts from this ground-breaking artist, including "Stella by Starlight."
Roy Eldridge
Little Jazz: The Best of Roy Eldridge on Verve
(Uni/Verve)
If you listen to me playing with the Teddy Hill band in 1937, I sounded like Roy Eldridge, and when I was with Cab Calloway, I still sounded like Roy Eldridge. You always will hear Roy Eldridge in my playing
Dizzy Gillespie
Critic Ira Gitler writes, "When historians simplify the development of the trumpet, three names -- Armstrong, Eldridge, and Gillespie -- are offered." This CD showcases the artist the Rolling Stone Jazz Record Guide calls "the most brilliant and influential trumpeter of the swing era."
Make way for the Duke!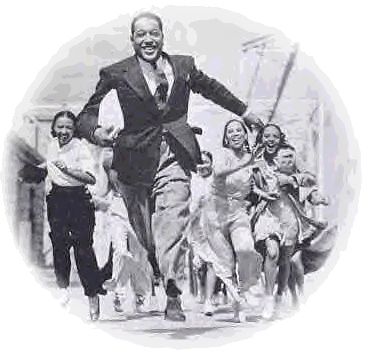 Duke Ellington (His Greatest Band)
Never No Lament - The Blanton-Webster Band
(BMG/RCA Victor)
Masterpieces galore! Encompassing a world of emotion, from joy to sorrow, tenderness to fervor, outrage to optimism, and divine romanticism to some of the better-known earthly passions, this is some of the greatest music of the 20th century. Period. Includes the original recordings of "Take the 'A' Train," "Just a-Sittin' and a-Rockin," "I've Got It Bad (and That Ain't Good)," "Perdido" and more, with excellent liner notes.
Duke Ellington (His Biggest Hits)
The Best of Duke Ellington
(EMD/Capitol)
The sizzling Ellington Orchestra performs the Duke's most enduring standards, including "Caravan" and "Satin Doll."
Duke Ellington (The Pianist)
Piano Reflections
(EMD/Blue Note)
It's often said that Ellington's "instrument" was his remarkable orchestra, but he was also a wonderful and innovative pianist. This album's "late night" feel perfectly suits such romantic Ellington standards as "Prelude to a Kiss" and "In a Sentimental Mood."
Bill Evans (Classic Trio)
Portrait in Jazz
(Fantasy/OJC)
Both introspective and swinging, Evans was one of our most creatively lyrical pianists. His classic trio with Scott LaFaro remains a pinnacle of group dynamics. This sparkling album features interpretations of a number of timeless standards, including the original jazz version of "Someday My Prince Will Come," plus "Blue in Green."
Bill Evans (Duo with Jim Hall)
Undercurrent
(EMD/Blue Note)
This album is remarkable not only for Evans's piano, but Jazziz magazine recently named it one of the all-time great jazz guitar albums as well. Two of the music's most reflective souls engage in a musical conversation, and fortunately the tape is rolling.
Ella Fitzgerald (Studio Masterpieces)
The Best of the Songbooks
(Uni/Verve)
The most beautiful voice in all of popular music (no arguments, please) sings the best of Broadway. Who could ask for anything more?
Ella Fitzgerald (In Concert)
Mack the Knife: The Complete Ella in Berlin
(Uni/Verve)
The stage was where Ella's genius truly blossomed, and this magnificent album finds her at the peak of all her powers. One of the great jazz vocal albums of all time, featuring her famous version of the title cut as well as an extraordinary "How High the Moon."
Ella Fitzgerald (Ballads)
The Intimate Ella
(Uni/Verve)
Ella once said, "Despite the different kinds of songs I sing, I still consider myself a ballad singer." This beautiful all-ballad album pairs Ella's gorgeous voice with only Paul Smith's piano, and was named by critic Will Friedwald as one of the sixteen greatest vocal jazz albums of all time. Includes "Black Coffee," "Angel Eyes" and "Misty."